Burning Brass - the burning horn section
For nearly 18 years the three women of the Burning Brass, Pamela Fleming, Jenny Hill and Nilda Richards have been rocking the world music scene. Three striking women - one black, two white - two tall flanking one not so tall . . . Their tight bond comes from their times on the road ... Their stage demeanor reflects how well they know each other.
In 1985 this three-piece unit first merged as a horn section for Steppin' Razor, an all-female pop reggae band that opened for major acts like UB40, Yellow Man, and Burning Spear, one of the hardest touring and prolific roots rock reggae bands of the last decade. Several months later Nelson Miller, drummer and musical director of Burning Spear asked the trio to play on Spear's upcoming European tour.
That initial Spear tour turned into two-and-a-half years of incessant globe-trotting - Europe, Africa, Columbia , Scandinavia, Granada, Jamaica, Canada, the U.S. - and three albums, the Grammy-nominated People Of The World (1987, Warner Bros./Slash), Mistress Music (1988, Warner Bros./Slash), and Burning Spear Live in Paris (1989 Blue Moon Records).
In spring 1988 Burning Brass had the honor of playing with Burning Spear in the first Reggae Sunsplash in Africa, which featured some of the hottest African and reggae groups in the world including Sly and Robbie & Rass Brass, King Sunny Ade, Fela, Judy Mowatt, Yellowman, U-Roy, Kotch and Chalice from Jamaica.
Michel Sauvage, producer/engineer, who has mixed several Burning Spear albums, says of the Burning Brass: "They know each other very well and that shows in the way they play. They are very tight as a horn section, interesting and impressive. But the thing that I noticed most was the sense of fun that I get from them when they're onstage. Maybe it's because music is still viewed as a man's world, but when they are performing it's refreshing; it looks very right, instinctual, and they seem to enjoy it very much."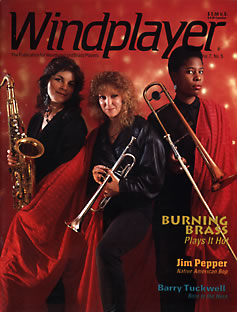 Photo © 1991 Enid Farber
written by Michelle M. Margetts
Being three women in the industry isn't always easy. Richards remembers many a time in countries the world over, including America, when the concept that women could play horns with the 'big boys' seemed just a little too far-fetched for your average backstage employee. "Once we were going on stage with Burning Spear, and the security guard thought we were just carrying the instruments for the band and put his arm out to stop us from going onto the riser (a slow roll of her eyes toward the heavens). It took him a long while to understand that we were the musicians."
In 1991 the Burning Brass with the A-Team toured the US with Reggae Sunsplash, backing Maxi Priest, Dennis Brown, Shinehead, Carlene Davis and Andrew Tosh. During this tour, the horn section was endorsed by The L.A.Sax Company, which specializes in custom colored horns. They continued on touring with Maxi Priest through Japan, and the Carribean.
In recent years the Burning Brass has been a sought after horn section in New York studios mostly working on Reggae, Funk, and World Music projects. Known for their warm blend, artists such as Toots & the Maytals, Beres Hammond and Freddie McGregor have enjoyed working with them. Contact and Booking.
In addition to working as a horn section, all three women have solo projects.
Jenny Hill, who was awarded a National Endowment of the Arts grant for jazz study with Joe Lovano a few years back, has been leading various jazz-related bands over the years and has released two CDs as a leader:"Liquid Horn" and "Planet Sax".
Nilda Richards (aka Sister Love) has formed a funk group by that name, which she fronts as a rapper and trombonist. "My lyrics focus on peace, love, lust and socio-political issues like mis-education in America."
Trumpet player Pamela Fleming and her group Fearless Dreamer, play original jazz-world-pop, which can be heard on her two recordings: "Fearless Dreamer", and the 2003 release "Climb". As a special treat, Pam sings on this CD as well! The title track is dedicated to the victims and loved ones of the September 11, 2001 attacks.
Pamela Fleming & Fearless Dreamer - Official Website
© 2000 Fearless Dreamer all rights reserved
Design by StraySnake - Send questions or comments to the Web Wizard