LATEST NEWS
HAZMAT modine is back on the road!!!
EUROPEAN TOUR
June 12th - July 8th
presented by Jaro Medien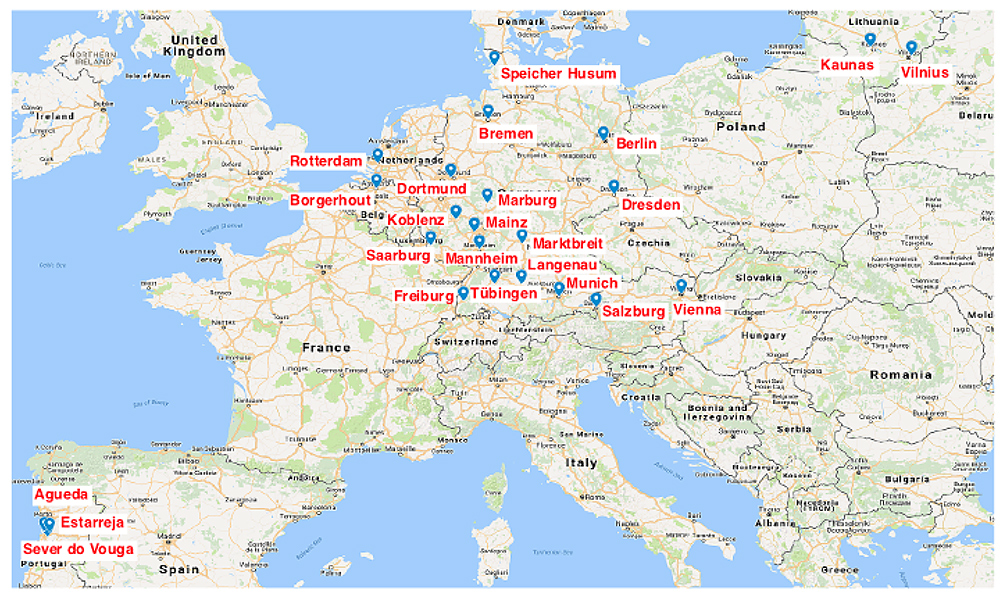 ---
June 12th - BOTANIC GARDEN IN VINGIS PARK - Vilnius, Lithuania
June 13th - RAUNDONDVARIO DVARAS - Kaunas, Lithuania
June 14th - MUSIKTHEATER PIANO - Dortmund, Germany
June 15th - CAFÉ HAHN - Koblenz, Germany
June 16th - KULTURHALLE LAGERHAUS - Marktbreit, Germany
June 17th - KULTURGIESSEREI - Saarburg, Germany
June 18th - DE ROMA - Borgerhout, Belgium
June 19th - JAZZCLUB TONNE - Dresden, Germany
June 20th - QUASIMODO - Berlin, Germany
June 21st - QUASIMODO - Berlin, Germany
June 22nd - SCHLACHTHOF- Bremen, Germany
June 23rd - JAZZIT - Salzburg, Austria
June 24th - STADTFEST - Langenau, Germany
June 25th - JAZZHAUS - Freiburg, Germany
June 27th - PORGY & BESS - Vienna, Austria
June 28th - FRANKFURTER HOF - Mainz, Germany
June 29th - ALTE FEUERWACHE - Mannheim, Germany
June 30th - LANTAREN VENSTER - Rotterdam, Netherlands
July 1st - KULTURLADEN KFZ - Marburg, Germany
July 2nd - ZENTRUM SPEICHER - Husum, Germany
July 4th - AMPERE - Munich, Germany
July 5th - SUDHAUS - Tübingen, Germany
July 6th - FESTIVAL FESTIM - Agueda, Portugal
July 7th - FESTIVAL FESTIM - Estarreja, Portugal
July 8th - FESTIVAL FESTIM - Sever do Vouga, Portugal
Follow Pam's Travel Blog and pictures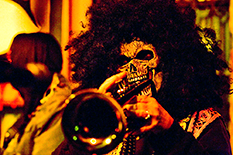 LOVE HALLOWEEN???
PAM FLEMING'S DEAD ZOMBIE BAND
has released
"RISE AND DANCE"
It's the perfect sound track for Your Halloween experience ...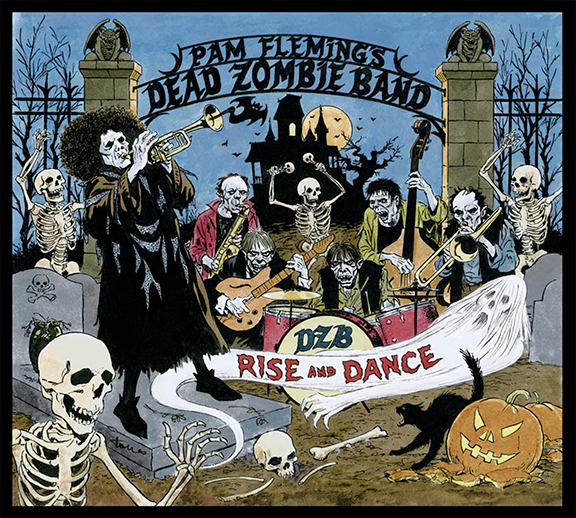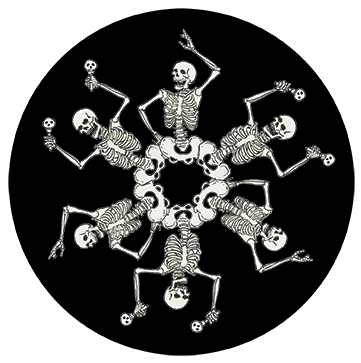 Angelo Torres of MAD magazine / Tales of the Crypt fame is the artist of the magnificent cover art for their album!!!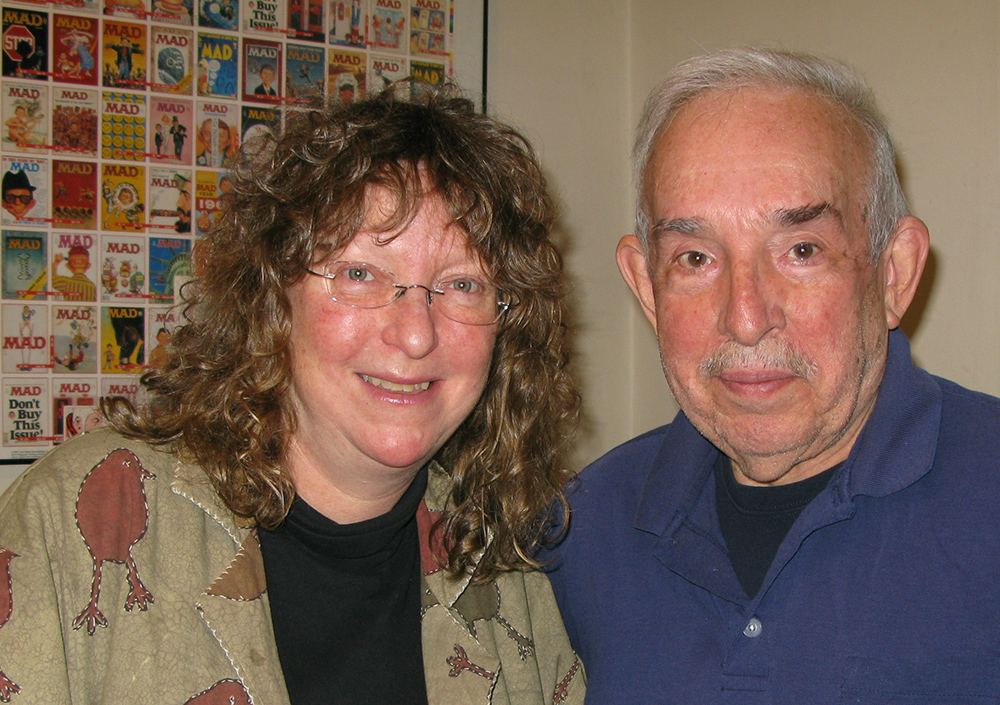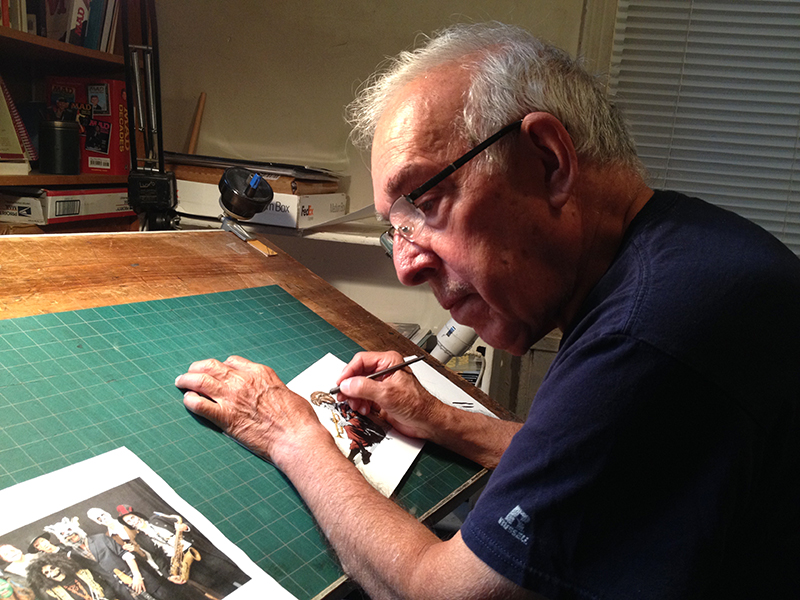 New Fearless Dreamer CD arriving soon!
I know some of you have been waiting a LONG Time for Pam and the Band to record again. Well - this is your year! Starting last February, Fearless Dreamer went back to Park West Studios in Brooklyn, and finished recording 9 new original songs with our recording engineer Jim Clouse.
We are working on the Album Cover Art now, and hope to have this music in your ears in a couple of months.
The group has a telepathic ability to bring out the best in each other. Thank you, Allen Won (saxes and flute), Jim West (piano and keys), Peter Calo (acoustic and electric guitars), Leo Traversa (bass), and Todd Isler (drums, hadjini, kanjira) - (oh yeah, and me on trumpet and flugelhorn)
---In the meantime, if you don't yet have a copy of the Halloween moody album "Rise And Dance", by Pam Fleming's Dead Zombie Band - don't procrastinate.
Click here and get yours in time for Halloween!!!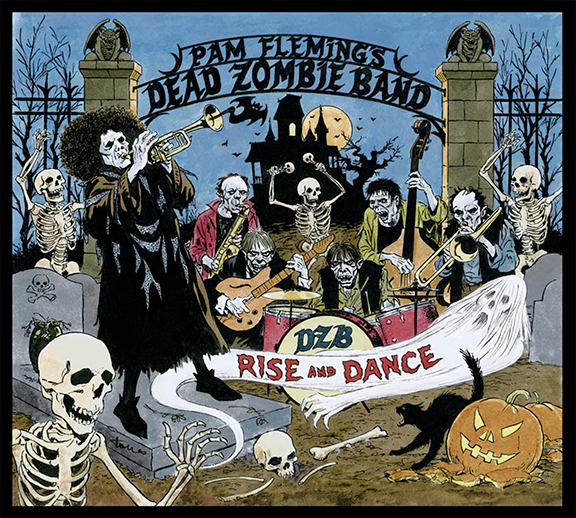 Hot new Video for the song "Moving Stones"
from the album "Extra Deluxe Supreme" by Hazmat Modine


The official music video for the song "Moving Stones" from the album "Extra Deluxe Supreme" by Hazmat Modine
Film made by Matthias Gordon


On the road with Hazmat Modine ...
Check out some of Pam's travel blogs touring extensively with Hazmat Modine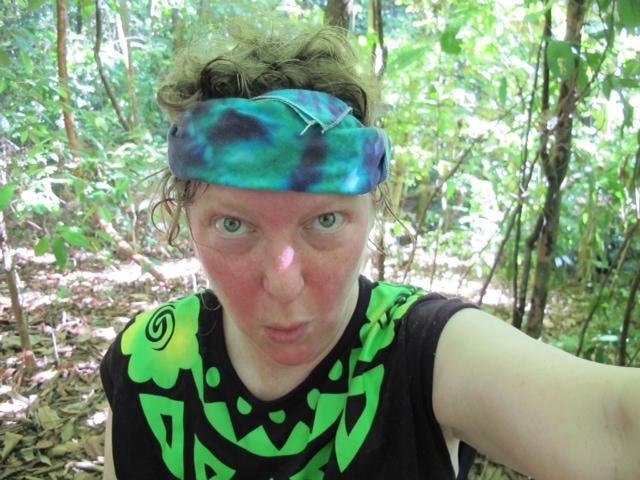 Follow Pam's Travel Blog and pictures


Hot new Video for the song "Mockingbird"
from the album "Cicada" by Hazmat Modine


The official music video for the song "Mockingbird" from the album "Cicada" by Hazmat Modine
Film made by Matthias Gordon


New York Times Critics' Pick
'Windfall,' a Documentary on Wind Turbines, by Laura Israel
featuring music by Hamat Modine
Opens on Friday, February 3rd, 2012 in Manhattan
Quad Cinema
34 West 13th Street, Greenwich Village, NY
212-255-8800
1:00, 2:40, 4:20, 6:00, 8:00, 10:00
The documentary "Windfall" shows the bitter rancor sowed among the residents of rural Meredith, N.Y., when the wind turbines came to town. When a multi-national corporation offers to revitalize a rural farm town's failing economy with a new industry, residents believe they have found the solution to their economic problems. But the townspeople grow increasingly alarmed as they discover that the company's plans for their town are far from anything they could have ever predicted.
For more information read Turbines in the Backyard: The Sound and the Strobes, New York Times article by Andy Webster.
(Published: February 2, 2012)
"Windfall" is directed by Laura Israel; narrated by Chuck Coggins; director of photography, Brian Jackson; edited by Ms. Israel, Stacey Foster and Alex Bingham; music by Hazmat Modine and Barbès Records; produced by Ms. Israel and Autumn Tarleton; released by First Run Features.

And the winner is ...
PINA wins the European Film Award in the category
"European Film Academy Documentary - Prix Arte"!
"PINA" the new Wim Wenders 3D documentation about Pina Bausch with Hazmat Modines "Bahamut".
A solo piece is danced to "Bahamut", the title track from Hazmat Modine´s first album.
For more information on the European Film Award
PINA is up for an Oscar!!!
PINA will compete in the category "Best Documentary Feature"
Very exciting!!! - Stay Posted!!!
February 26, 2012 - 84th Academy Award Presentation
Oscars 2012: 'Pina' by Wim Wenders lands documentary nomination - latimesblogs.latimes.com




Pina Bausch is a legendary dancer and choreographer.
Her unique creations transformed the language of dance and offer a visual experience like no other.
This revolutionary 3D film PINA from director Wim Wenders captures
the aesthetic of Pina Bausch's greatest works in a thrilling way.


ANIMATION by www.pilartoons.com

Listen to some clips of Hazmat Modine

SWR-Mediathek
Stadthalle Heidelberg
October 20th, 2010
Hazmat Modine recorded live on SWR TV.
(86 minutes)

Hazmat Modine honored with prestigious Charles Cros Award
Palmares 2011
PARIS, France - November 24, 2011

Hazmat Modine was honored with the prestigious French Charles Cros Award - Palmares 2011 in the Blues category on November 24 in Paris, France, for their splendid CD "Cicada".
The Charles Cros award has been given, once a year, to the "best musicians/bands by L'Académie Charles-Cros since 1948 in France", in the genres Classical music, Jazz, Pop, Blues and others.


"Cicada"
New video by Joseph Voves


"The Tide"
BBC - Maida Vale Studios
May 26th, 2010
Hazmat Modine was in the BBC Studios for an interview and a live session with Paul Jones.

Get Your sneak preview from the 2010 Sampler "Gone To The Dogs" released by Jaro

2.47 mp3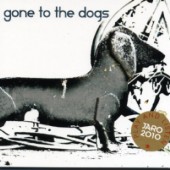 Purchase the song from Jaro

Ayn Sof Arkestra in the New York Times
New York Times Review by Clint Rainey
October 17, 2010
Big Band Jazz With Jewish Soul

Hottest New Big Band in NYC
The Ayn Sof Orchestra and Bigger Band are the most exciting new development in big band jazz in New York. To call them the "Jewish big band" is to say that they play large ensemble jazz works liberally sprinkled with themes and motifs from Jewish music. Some of the compositions are jazz arrangements of folk songs; their originals, contributed by several members of the ensemble, draw sometimes deeply, sometimes loosely on klezmer or Middle Eastern melodies. The group, a mix of some of the most highly sought-after jazz talents in the city, has been playing together for about a year, with a monthly residency at bandleader/tenor sax player Greg Wall's Sixth Street Synagogue. Monday night's sold-out show at the Cell Theatre in the West Village was a revelation.
... trumpeter Pam Fleming's 'Intrigue in the Night Market' was downright sexy, her own slyly cosmopolitan solo growing more rootless, the band restlessly and suspensefully rising to a big crescendo out of it.
Read the whole September 27, 2010 performance review by LucidCulture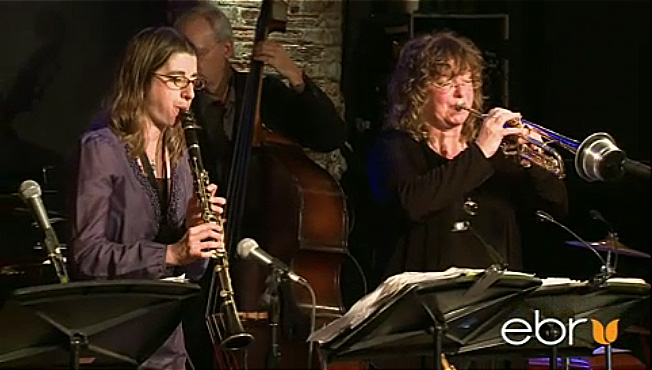 Metropolitan Klezmer's feature TV debut is now posted online: "Rhythm & Roots" Season 2 opener episode Season 2 opener episode is all about our band, featuring live City Winery footage from May 2010, plus bandmate interviews (with Eve Sicular, Pam Fleming, Michael Hess, Debra Kreisberg & Melissa Fogarty). Lots of repertoire variety including several excerpts of our own originals... even a yet-to-be-released tune by Pam, and her kudu shofar demo)! Also in onstage video: Dave Hofstra - bass & tuba; plus guests Terri Conti - accordion and Patrick Farrell - piano.
View full Program: Trailer up first (30 sec), then full program (22 min)

Hazmat Modine records with Natalie Merchant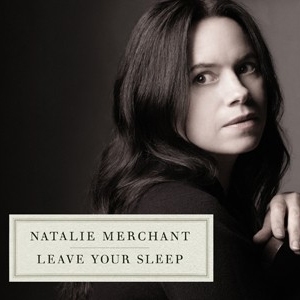 Hazmat Modine is featured on Natalie Merchant's April 13, 2010 release "Leave Your Sleep" on Nonesuch Records.
Get Your sneak preview

The Blind Men and the Elephant
April 12 & April 13 Natalie performed at the Society for Ethical Culture in New York
Wade Schuman, Steve Elson and Pam Fleming joined Natalie on stage for the performance representing Hazmat Modine.
After an eight-year long hiatus from recording, Natalie Merchant is working with Venzuelan producer Andres Levin and British soundtrack recordist Nick Wollage. Musical collaborators include Wynton Marsalis, Medeski, Martin & Wood, Lúnasa, The Fairfield Four, The Klezmatics, Hazmat Modine and Cardamon Quartet, Stephen Barber, The Meridian Arts Ensemble, The Ditty Bops, Katell Keineg and more. Check Natalie Merchant's website for more information.

Hazmat Modine appears in new documentary
LISTEN TO THE WORLD: THE MUSICAL INSTRUMENT MUSEUM
Program airs on OVATION TV
Sunday, April 18 at 10pm EST/7pm PST
Monday, April 19 at 1am EST/10pm PST
Thursday, April 22 at 10pm EST/7pm PST
Friday, April 23 at 2am EST/11pm PST
Sunday, April 18 at 5pm / 9pm EST/2pm / 6pm PST
This documentary, timed to coincide with the opening of the Musical Instrument Museum in Phoenix, Arizona, presents a cacophony of sounds coming quite literally from all corners of the Earth. It takes a closer look at some of the most obscure instruments the world has known and watch as they are played by native musicians. Exploring music as a language shared by humankind, LISTEN TO THE WORLD portrays the differences in music across cultures and eras, examines the intricate craftsmanship put into each instrument, and explores the ways in which music rouses emotion and soothes the soul. Have an exclusive first look at the designing of this magnificent museum as well as a premiere unveiling of some of the coming exhibits.

Beautiful short film by Sasha Wortzel,
with music by Pam Fleming & Rachelle Garniez
I Guess Im Not Going to Get to Vegas is a short portrait of Florence Sterling, who passed away from lung cancer two years ago, told through the stories and memories of her lover of over 40 years, Aileen. The piece explores illness, love, and loss through the relationship between two elderly Jewish lesbians who came out before the emergence of a visible gay rights movement.
The short film features:
"Dreaming Wizard", composer: Pam Fleming featured on Surprising Finds by Metropolitan Klezmer
"Doyna Indigo", composer: Rachelle Garniez featured on Greetings from the Isle of Klezbos by The Isle of Klezbos
The short has been shown in festivals including Threat Level: Queer Shorts in Brooklyn & Chicago, and Short & Savory: film shorts by women directors at York College, its next screening will be at CUNY Film Festival on March 20. Music available on iTunes, Amazon, CDBaby.

Pam played with Comedian Denis Leary at Radio City Music Hall
Radio City Music Hall
hit song - "Asshole"
featuring the "Rehab Horn Section"
Pam Fleming - Trumpet, Jenny Hill - Tenor Sax & Penny Whistle, Lauren Sevian - Bari Sax

Pam and Wade Schuman (from Hazmat Modine) were some of the Fortunate Few to join Rachelle on stage at Joe's Pub.
Enjoy Pam joining Rachelle Garniez on Broken Nose

The Latest from Easy Star All Stars:
First there was Dub Side of the Moon. Then there was RadioDread...
And now, the latest dubbed-out Reggae release from the Easy Star All-Stars:
Sergeant Pepper's Lonely Hearts DUB Band!

Gov't Mule - "Mighty High"

Pam Fleming, Jenny Hill and Buford O'Sullivan from the Easy Star All Stars are featured on Gov' Mule's new release "Mighty High".

Hard To Handle featuring Toots Hibbert

They also sat in with Gov't Mule at the Beacon Theater in New York City on December 29, 2007, and at the Porter-Batiste-Stoltz after-party at The Blender.

All was recorded, and can be downloaded at muletracks.com

Easy Star All Stars release EP
"Until That Day"
Pam is featured on a fun song called "The Finest".



Listen to some soundclips from Fearless Dreamer's CDs, FEARLESS DREAMER & CLIMB.
We take credit cards - click on the CD to go to the Listening Room.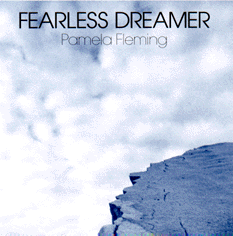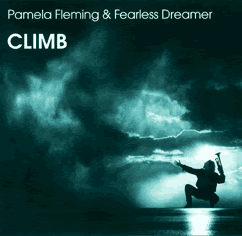 Pamela Fleming & Fearless Dreamer - Official Website
© 2000 Fearless Dreamer all rights reserved
Design by StraySnake - Send questions or comments to the Web Wizard